New research shows scientists have underestimated the climate risk to agriculture and global food production. Blind spots in climate models meant "high-impact but deeply-uncertain hazards" were ignored. But now that the threat of "synchronised harvest failures" has been revealed, we cannot ignore the prospect of global famine.
Climate change models for North America and Europe had previously suggested global warming would increase crop yields in the short term. Those regional increases were expected to buffer losses elsewhere in global food supply.
But new evidence suggests climate-related changes to fast flowing winds in the upper atmosphere (the jet stream) could trigger simultaneous extreme weather events in multiple locations, with serious implications for global food security.
I have been examining opportunities to manage agricultural risk for 25 years. Much of that work involves learning how agricultural systems can be made more resilient, not only to climate change but to all shocks. This involves understanding the latest science as well as working with farmers and decision-makers to make appropriate adjustments. As the evidence on climate risk mounts, it's clear Australia must urgently adapt and rethink our approach to global trade and food security.
Building resilience to shocks
Unfortunately, the global food system is not resilient to shocks at the moment. Only a few countries such as Australia, the US, Canada, Russia and those in the European Union produce large food surpluses for international trade. Many other countries are dependent on imports for food security.
So, if production declines rapidly and simultaneously across big exporting countries, supply will decrease and prices will increase. Many more people will struggle to afford food.
The prospect of such synchronised harvest failures across major crop-producing regions emerges during northern hemisphere summers featuring "meandering" jet streams. When the path of these fast flowing winds in the upper atmosphere shifts in a certain way, the likelihood of extreme events such as droughts or floods increases.
The researchers studied five key crop regions that account for a large part of global maize and wheat production. They compared historical events and weather to modelling. Yield losses were mostly underestimated in standard climate models, exposing "high-impact blind spots". They conclude that their research "manifests the urgency of rapid emission reductions, lest climate extremes and their complex interactions […] become unmanageable".
Free trade or food sovereignty
Australia has been a big advocate for free trade, reducing barriers to trade such as tariffs and quotas. But the new research revealing the climate risk to food security should trigger a change in policy.
We have already experienced the limitations of an over-reliance on trade to access food. The system has wobbled during the COVID pandemic and the global financial crisis of 2008, when millions of people were thrown back into food insecurity and poverty.
Encouraging free trade in agriculture has not significantly improved global food security. In 1995, the World Trade Organisation implemented the Agreement on Agriculture to liberalise agricultural trade. That agreement constrained the ability of national governments to protect their agricultural industries, and many more people have become food insecure since its introduction.
Australia needs to reconsider its short-term focus on the advantages of selling goods internationally. Conceptualising food more as a human right than a commodity might initiate such a shift.
The global poor do not have the buying power to influence market demand and increase food supply for their benefit. As they face hardship, many are becoming angry, sparking conflict and undermining food security further.
The long-term goal needs to be a global food system that will be resilient to shocks, including climate change. Trade policy may need to respond by allowing governments to prioritise sovereign food security in a world dominated by risk.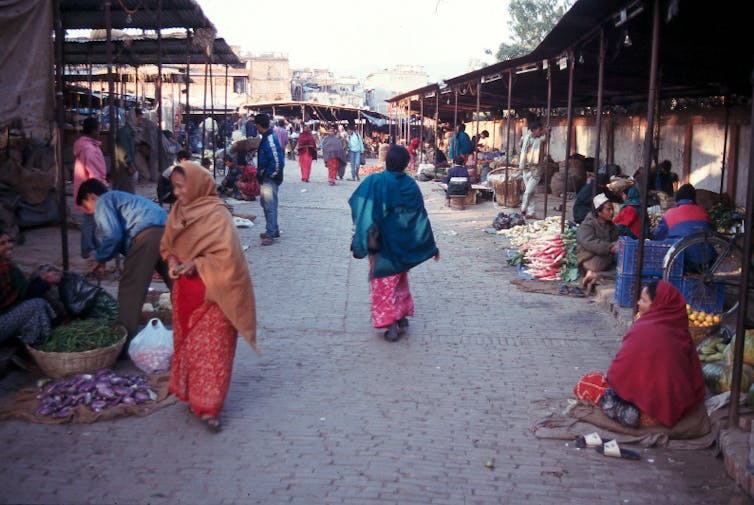 Huge implications for Australia
Prior to the COVID pandemic, the Australian Bureau of Agriculture and Resource Economics was spruiking the nation's food security. But it isn't that simple. Even though there has been a lot of food available across Australia since early 2020, access has declined. Local food insecurity increased as the pandemic disrupted supply chains, with rising poverty on one hand and inflation on the other.
Climate change risks are likely to dwarf the impacts of COVID on Australian food systems.
Australian agriculture is highly exposed to climate change because rainfall and temperatures are so strongly influenced by El Niño. The drying phase of the El Niño Southern Oscillation is expected to strengthen with climate change.
As atmospheric circulation changes, global weather patterns are shifting towards the poles. This is partly why early modelling of climate change in the cold-constrained agricultural systems of North America projected production would increase with global warming. But not anymore.
In Australia, modelling has rarely suggested the country would benefit from climate change. The Murray-Darling Basin, the heart of the nation's food bowl, is expected to suffer warming, drying, reduced streamflow and more extreme events.
Australian agriculture is also highly sensitive to climate shocks because it is mostly rainfed – literally dependent on water that falls from the sky. Projected increases in droughts, evaporation and reduced average rainfall are going to challenge production systems.
Recent floods have also had shown how extreme weather events can have widespread impacts on agriculture and food prices. La Niña "rain bombs" (flash flooding from short duration, heavy rainfall events) damaged oranges and mandarin crops in 2022, downgrading produce.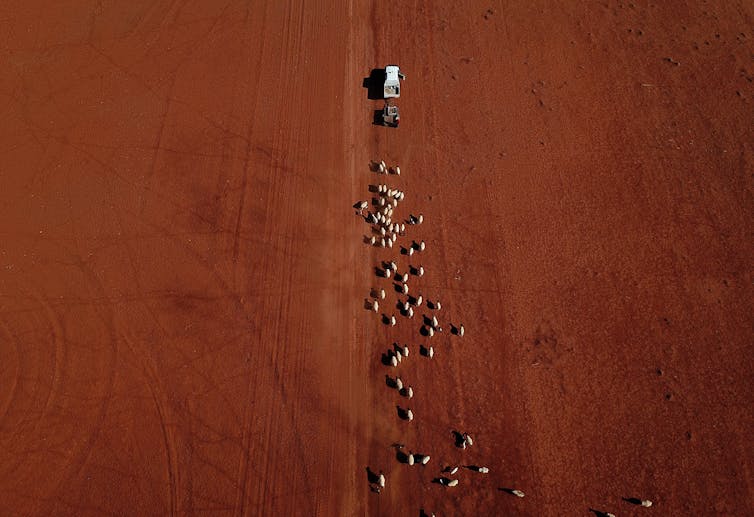 To reduce the risk we need to adapt. Until recently, it was only rising land prices that enabled many Australian agribusinesses to remain viable for long periods of poor terms of trade.
Australian agriculture's ability to withstand shocks relies on a range of structural factors that need more recognition, including:
our research and development capacity, which has been eroding with stagnant public investment
the sustainable management of key resources, such as the waters of the Murray-Darling and high-quality agricultural land, both of which we have struggled to protect
the resilience of farming communities, even though many are lacking key services and support.
A lucky country facing turbulent times
Australia is fortunate to be one of the few countries that produces more food than it needs, but it has other responsibilities towards global food security. Policy will need to respond to the new understanding of how food security will be affected by climate change.
There are a number of ways Australia could respond to the new evidence. To drive that change, there needs to be a new level of awareness of the true extent of the risks to agriculture.
On a global scale, governments may need to rethink their strong advocacy for food trade liberalisation.
Locally, Australia will need to invest in adaptation to ensure that agriculture, and our food systems more broadly, are resilient to the gathering storm, because this one will be like nothing we have ever seen.
Author: Assoc Professor Doug Bardsley from the Environment Institute and School of Social Sciences, University of Adelaide.
This article is republished from The Conversation under a Creative Commons license. Read the original article.